Dryads are a rare creature. They walk gracefully through the forests, causing flowers to bloom and leaves to rustle in their wake.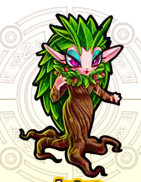 Excellent againest: Wind
Weak againest: Fire
Max Health: 38
Strength: 8
Defense: 13
Speed: 11
Stats will vary as you level up your Dryad.
You can find the Dryad in Bumbling Bramble but you must remember its rare so it hardly pops up.
Also you can go to the shop, buy a recruitment tent for 500 gold and invite 3 new players in order to get the Dryad.
Level 2- Blast Attack
Edit
Power: 40
Accuracy: 95
Magic Power : 8
Level 4- Stone Spike
Edit
Power: 60
Accuracy: 95
Magic Power : 17
Level 7- Boulders
Edit
Power: 80
Accuracy: 100
Magic Power: 27

~DymondClawz~